Optometrist, Dr. Katrina Wilson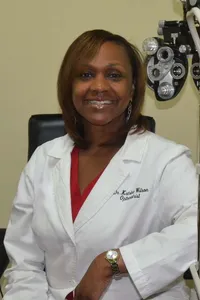 Dr. Katrina Wilson graduated from Emory University in 1991 with a B.S. in biology and a minor in a psychology. After completing her undergraduate studies at Emory, she attended Indiana University School of Optometry in Bloomington, Indiana. Dr. Wilson completed internships at Danville Veteran Hospital in Danville, Illinois and the Omni Eye Center in Atlanta, Georgia. Dr. Wilson practiced primary care optometry for 7 years in Chicago, Illinois. She served a host of patients from various ages and multi-cultural backgrounds – here she truly found her love for optometry and health care. She has had the pleasure of serving patients in Columbia with the same enthusiasm for the past 16 years.
Dr. Wilson enjoys practicing optometry and getting to know her patients. She has taken on the motto:
'If you love what you do, you'll never work a day in your life.'
However, her first loves are her husband and two energetic boys. Days away from the office are spent enjoying precious time with family. Dr. Wilson also enjoys volunteering and scrapbooking.